What is a Non-Qualified Plan?
A non-qualified plan is an unregulated plan which is not subject to the nondiscrimination requirements of qualified plans. It can be designed to cover a limited group of employees and bring parity to those that have been discriminated against in a qualified plan. Also, it can provide benefits in excess of those permitted under the qualified plan limits.
4 Basic Types of Non-Qualified Plans
Deferred Compensation Plans
Deferred compensation plans are the most common non-qualified plan. Due to the limits on contributions to qualified plans, many employees are faced with paying taxes on income they currently don't need. A deferred compensation plan enables a select group of employees to defer receiving this income on a pre-tax tax-deferred basis until they receive the funds sometime in the future such as retirement. Deferred compensation plans come in two forms: deferred savings plans, such as a 401(k) Excess Plan, and Supplemental Executive Retirement Plans (SERP). They are very similar but usually deferred savings plans are funded by employee contributions while SERP's are funded by the employer.
Executive Bonus Plans
Executive Bonus Plans, or a 162 Bonus, is a flexible executive benefits planning alternative. It is an agreement under which the employer, through a bonus to the employee, pays premiums for a life insurance policy on the employee's life. The employee retains all ownership rights in the policy and names the policy beneficiary.  The plan provides employees valuable life insurance protection and the opportunity to supplement retirement.  Employers looking for more control over the plan can incorporate a Restricted Executive Bonus Arrangement in which cash values can be restricted.
Group Term Carve Out Plans
Typical group term life insurance is provided to a group of employees no matter the difference in compensation levels under a group insurance contract held by the employer. If the plan qualifies under IRS Code Sec. 79, the cost of the first $50,000 of insurance is tax-free to the employees. Highly compensated employees often receive a lower ratio of benefit to salary compared to others employees. To bring parity to the highly compensated employees, these individuals can be "carved out" to provide additional life insurance coverage on top of the group plan.  This coverage can be either company or employee owned.
Split-Dollar Life Insurance Plans
Sometimes there is a greater need for coverage than what a company's group term plan will provide and not all employees have the disposable income to afford the premiums for more coverage. A company may arrange a split-dollar plan where the company and employee can split the death benefits and cash values of life insurance. In certain situations the company retains a policies cash value and its growth while sharing with the employee the policies death benefits.  In other situations the company lends the employee funds to purchase their life insurance and in turn the company is assigned a right to the cash values and death benefit equal to the amount of its loans, until the loan is paid back the employee is responsible for loan interest.


NBG and Non-Qualified Plans 
NBG, for the last 30 years has provided non-qualified plans to some of the largest companies in the country. Today, most large companies have already implemented such plans but as illustrated in the figure below, there is still a huge opportunity for small to midsized businesses across the country.  Most have the need and capability of implementing a non-qualified plan structured much like the plans in bigger companies.  It's important for advisors to show their clients the opportunities and advantages of using non-qualified plans. We are here to help with any or all of the steps of the process.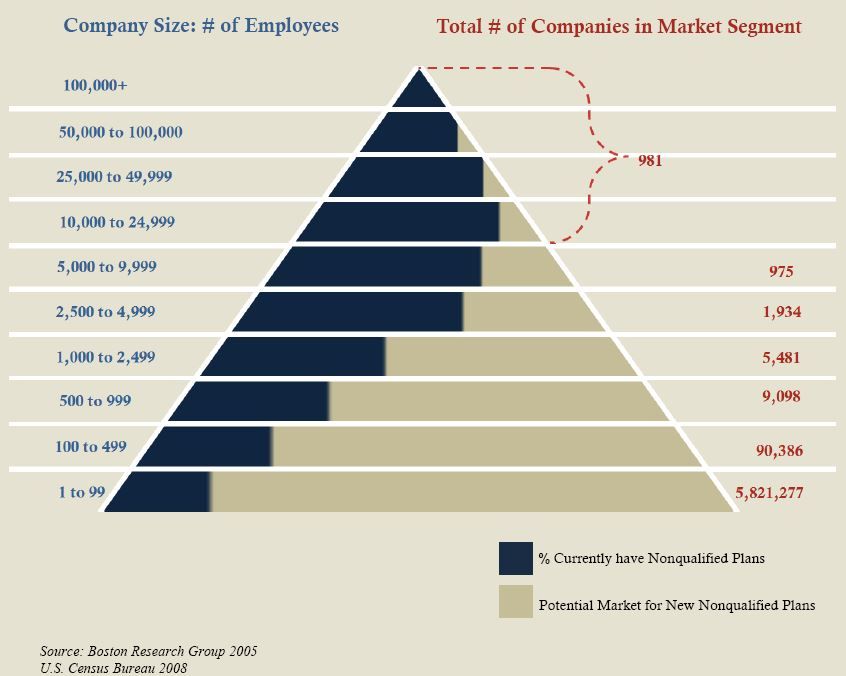 If you would like to discuss opportunities, call us at 952-449-4030. If you would like to have an NBG associate contact you, please provide your contact information, questions or comments here.
Securities offered through ProEquities, Inc., a Registered Broker/Dealer, and member FINRA and SIPC. NBG is independent of ProEquities, Inc. FINRA's Broker Check